This edition: February 2014
Tweet
Episode Details
Original tape date: February 10, 2014.
First aired: February 14, 2014.
The assistant curator Naima Keith takes us on a tour of the groundbreaking exhibit "The Shadows Took Place" at The Studio Museum in Harlem about Afro-futurism and contemporary art. Afro-futurism explores race through the lens of science fiction, fantasy and magic realism. In the story, we look at works from artists around the world grappling with Afro-futurism through photography, painting, drawing, sculpture and video. We also look at the influences on Afro-futurism from science fiction writers such as Octavia Butler and Samuel Delany, sonic innovator Sun Ra, futuristic movies like Star Wars, District 9 & The Wiz and the music videos of Parliament Funkadelic and Labelle.

Magalie Laguerre-Wilkinson takes you on a culinary tour of New York City restaurants in museums, where you don't typically expect top-notch food.

Pat Collins interviews Xan Cassavetes, daughter of American independent auteur John Cassavetes and actress Gena Rowlands, and director/writer of "Kiss of the Damned"

Carol Anne Riddell brings you a story about love and compassion that you might not expect -- no chocolates or roses here. Meet Helen Dillon, an 84 year old documentary film maker, who spends her free time volunteering with prisoners, bringing warmth to their hearts and her own.

Donna Hanover gives us an inside look at world-renowned chocolatier Jacques Torres and how he crafts his delicious masterpieces.

Guest List
Saul Bolton Executive Chef, Saul Restaurant
Xan Cassavetes Director/Writer, Kiss of the Damned
Helen Dillon Documentary Filmmaker
Hugue Dufour Owner/Executive Chef, M. Wells Dinette
Dr. Jeff Gardere Psychologist, Adjunct Clinical Professor, Touro College of Osteopathic Medicine
Naima J. Keith Assistant Curator, Studio Museum in Harlem
Dino Lavorini General Manager, The Modern
Aidan O'Neal Chef de Cuisine, M. Wells Dinette
Jacques Torres Master Pastry Chef, Chocolatier, Jacques Torres Chocolate
Web Extras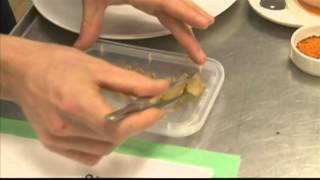 Saul Restaurant in Brooklyn
Co-Chef, Michael Tyler, prepares a mackerel dish at Saul Restaurant in the Brooklyn Museum.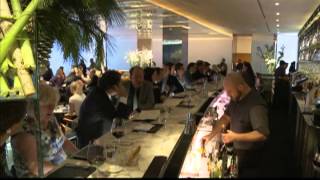 The Modern at MoMA
MoMA General Manager, Dino Lavorini, talks about the design of the in museum restaurant.
Tuesday, May 28 - 8:00pm
Wednesday, May 29 - 8:00am, 2:00pm
Saturday, June 1 - 6:00pm
Sunday, June 2 - 8:30am
Tuesday, June 11 - 8:00pm
Wednesday, June 12 - 8:00am, 2:00pm
Saturday, June 15 - 6:00pm
Sunday, June 16 - 8:30am
Tuesday, May 14 - 8:00pm
Wednesday, May 15 - 8:00am, 2:00pm
Saturday, May 18 - 6:00pm
Sunday, May 19 - 8:30am
Tuesday, April 23 - 8:00pm
Wednesday, April 24 - 8:00am, 2:00pm
Saturday, April 27 - 6:00pm
Sunday, April 28 - 8:30am