This edition: May 2015
Tweet
Episode Details
Original tape date: May 1, 2015.
First aired: May 8, 2015.
Magalie Laguerre-Wilkinson hosts this month's episode of Arts in the City from FDR Four Freedoms Park on Roosevelt Island.

Segments include Tony Guida's interview with photographer Will Ellis, who recently released a book of photographs of abandoned locations in NYC; Minnie Roh's story on the increasing number of Asian American comic book writers; Pat Collins' interviews with the cast and creative team behind Broadway's biggest spring opening, Wolf Hall Parts One & Two; Donna Hanover's interview with Andrew Morton, author of the new book 17 Carnations; Barry Mitchell's night learning about close-up magic; and Andrew Falzon's profile of the controversial Bjork career retrospective at the Museum of Modern Art.

For more information:
FDR Four Freedoms Park - www.fdrfourfreedomspark.org
Abandoned NYC - abandonednyc.com
Wolf Hall - wolfhallbroadway.com
17 Carnations - https://hachettebookgroup.com/titles/andrew-morton/17-carnations/9781619695887
Bjork - www.moma.org/visit/calendar/exhibitions/1501
A Taste of Magic - www.atasteofmagicnyc.com

Guest List
Eli Bosnick Creator/Producer, A Taste of Magic
Lucy Briers Actress, 'Catherine of Aragon', Wolf Hall Parts One & Two
Leah Brotherhead Actress, 'Jane Seymour', Wolf Hall Parts One & Two
Eric Brown Magician
Amy Chu Comic Book Writer, Wonder Woman
Will Ellis Photographer and Author, Abandoned NYC
Jeremy Herrin Director, Wolf Hall Parts One & Two
Lydia Leonard Actress, 'Anne Boleyn', Wolf Hall Parts One & Two
Dame Hilary Mantel Novelist, Wolf Hall Parts One & Two
Ben Miles Actor, 'Thomas Cromwell', Wolf Hall Parts One & Two
Andrew Morton Author, "17 Carnations"
Greg Pak Comic Book Writer, Incredible Hulk
Nathaniel Parker Actor, 'King Henry VIII', Wolf Hall Parts One & Two
Herb Scher Magician
Hudson Taylor Magician
Rachel Wax Magician
Web Extras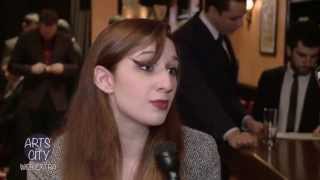 Vanishing Act
Rachel Wax explains why there are so few female magicians.
Tuesday, May 28 - 8:00pm
Wednesday, May 29 - 8:00am, 2:00pm
Saturday, June 1 - 6:00pm
Sunday, June 2 - 8:30am
Tuesday, June 11 - 8:00pm
Wednesday, June 12 - 8:00am, 2:00pm
Saturday, June 15 - 6:00pm
Sunday, June 16 - 8:30am
Tuesday, May 14 - 8:00pm
Wednesday, May 15 - 8:00am, 2:00pm
Saturday, May 18 - 6:00pm
Sunday, May 19 - 8:30am
Tuesday, April 23 - 8:00pm
Wednesday, April 24 - 8:00am, 2:00pm
Saturday, April 27 - 6:00pm
Sunday, April 28 - 8:30am