This edition: November 2015
Tweet
Episode Details
Original tape date: November 13, 2015.
First aired: November 13, 2015.
Magalie Laguerre-Wilkinson hosts this month's Arts in the City from the Noguchi Museum's latest exhibition, "Museum of Stones".

Tinabeth Piña tells the story of the Young Lords, a social activist group that is now being remembered in a multi-museum retrospective.

Movie makeup company BxC Studios transforms Andrew Falzon into a zombie.

Pat Collins sits down with Matthew Broderick, Annaleigh Ashford and the rest of the cast and crew behind the new Broadway revival, Sylvia.

Barry Mitchell makes his triumphant return to the stage at Jo and Fred Firestone's Punderdome 3000

Magalie Laguerre-Wilkinson goes to the Big Apple Circus in Lincoln Center.

In this month's Hidden Gems of New York, we profile the New York City Fire Museum during the FDNY's 150th anniversary.

Guest List
Annaleigh Ashford Actor 'Sylvia', "Sylvia" on Broadway
Matthew Broderick Actor 'Greg', "Sylvia" on Broadway
Johanna Fernández, Ph.D. Curator, The Bronx Museum of the Arts
Fred Firestone Co-host, Punderdome 3000
Jo Firestone Comedian, Punderdome 3000
Jerzy Gwiazdowski Participant, "Jargon Slayer", Punderdome 3000
Miguel "Mickey" Melendez Young Lords, Member
Barbara Miller Curator of the Collection & Exhibitions, Museum of the Moving Image
Barry Mitchell Producer, CUNY TV
Denise Oliver-Velez Young Lords, Member
Jamie Rae Makeup & Special Effects Artist/ProWorkshop Instructor, BxC Studios
Robert Sella Actor 'Tom, Phyllis, Leslie', "Sylvia" on Broadway
Ally Spier Participant, "Words Nightmare", Punderdome 3000
Daniel Sullivan Director, "Sylvia" on Broadway
Julie White Actor 'Kate', "Sylvia" on Broadway
Web Extras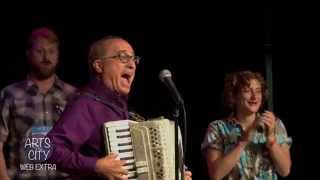 Punderdome 3000 Web Extra
Barry performs his original song "Pun, Pun, Pun" on stage at Punderdome 3000
Tuesday, May 28 - 8:00pm
Wednesday, May 29 - 8:00am, 2:00pm
Saturday, June 1 - 6:00pm
Sunday, June 2 - 8:30am
Tuesday, June 11 - 8:00pm
Wednesday, June 12 - 8:00am, 2:00pm
Saturday, June 15 - 6:00pm
Sunday, June 16 - 8:30am
Tuesday, May 14 - 8:00pm
Wednesday, May 15 - 8:00am, 2:00pm
Saturday, May 18 - 6:00pm
Sunday, May 19 - 8:30am
Saturday, April 27 - 6:00pm
Sunday, April 28 - 8:30am