This edition: October 2016
Tweet
Episode Details
Original tape date: October 7, 2016.
First aired: October 14, 2016.
Magalie Laguerre-Wilkinson looks at a new show at the International Center of Photography.

Andrew Falzon visits a guitar-making shop with a unique New York twist.

Pat Collins interviews the author of a new biography about actress Mary Martin.

Donna Hanover profiles The Drama League.

Tinabeth Pina does a little bit of belly dancing.

Mike Gilliam takes us inside the Roerich Museum.

Guest List
Web Extras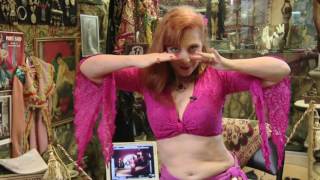 Serena Belly Dance Museum
Why women belly dance, then and now. With Leni Cohen of the Serena Belly Dance Museum.
Tuesday, May 28 - 8:00pm
Wednesday, May 29 - 8:00am, 2:00pm
Saturday, June 1 - 6:00pm
Sunday, June 2 - 8:30am
Tuesday, June 11 - 8:00pm
Wednesday, June 12 - 8:00am, 2:00pm
Saturday, June 15 - 6:00pm
Sunday, June 16 - 8:30am
Tuesday, May 14 - 8:00pm
Wednesday, May 15 - 8:00am, 2:00pm
Saturday, May 18 - 6:00pm
Sunday, May 19 - 8:30am
Tuesday, April 23 - 8:00pm
Wednesday, April 24 - 8:00am, 2:00pm
Saturday, April 27 - 6:00pm
Sunday, April 28 - 8:30am