This edition: Art & Activism with Faith Ringgold
Tweet
Episode Details
Original tape date: January 18, 2017.
First aired: January 25, 2017.
Artist, Author and Activist, Faith Ringgold joins Carol Jenkins to explore pieces of her work, movement and inspirations. Faith Ringgold is the recipient of over 75 awards, including 22 honorary Doctor of Fine Arts Degrees and a Lifetime Achievement honor from the College Art Association. She is also known for many of her children's books such as "Aunt Harriet's Underground Railroad In The Sky", "The Invisible Princess and "If a Bus Could Talk; The Story of Ms. Rosa Parks" (which won the NAACP's Image Award in 2000).

Guest List
Web Extras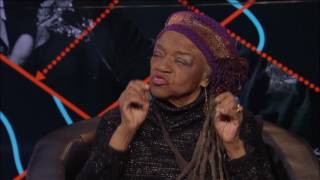 Faith Ringgold shares...
Faith Ringgold discusses the story of her Memoir with Carol Jenkins.
Saturday, May 25 - 1:00pm
Sunday, May 26 - 11:30pm
Tuesday, May 28 - 11:30pm
Wednesday, May 29 - 7:30am, 1:30pm
Friday, May 31 - 9:00pm
Saturday, June 1 - 1:00pm
Sunday, June 2 - 11:35pm
Tuesday, June 4 - 11:30pm
Wednesday, June 5 - 7:30am, 1:30pm
Stacey Ciceron: Celebrity Hairstylist & Brand Consultant; Yancey Edwards: Celebrity Hairstylist & CEO, Shear Insanity
Friday, June 7 - 9:00pm
Saturday, June 8 - 1:00pm
Sunday, June 9 - 11:30pm
Tuesday, June 11 - 11:30pm
Wednesday, June 12 - 7:30am, 1:30pm
Saturday, June 15 - 1:00pm
Sunday, June 16 - 11:30pm
Tuesday, June 18 - 11:30pm
Wednesday, June 19 - 7:30am, 1:30pm
Friday, May 17 - 9:00pm
Saturday, May 18 - 1:00pm
Sunday, May 19 - 11:40pm
Tuesday, May 21 - 11:30pm
Wednesday, May 22 - 7:30am, 1:30pm
Friday, May 3 - 9:00pm
Saturday, May 4 - 1:00pm
Sunday, May 5 - 11:30pm
Tuesday, May 7 - 11:30pm
Wednesday, May 8 - 7:30am, 1:30pm
Saturday, May 11 - 1:00pm
Sunday, May 12 - 11:45pm
Tuesday, May 14 - 11:30pm
Wednesday, May 15 - 7:30am, 1:30pm
Wednesday, April 24 - 7:30am, 1:30pm
Saturday, April 27 - 1:00pm
Sunday, April 28 - 11:30pm
Tuesday, April 30 - 11:30pm
Wednesday, May 1 - 7:30am, 1:30pm