This edition: blk/Am: Kenneth Jackson
Tweet
Episode Details
Original tape date: August 15, 2017.
First aired: September 10, 2017.
In this minisode, we feature Kenneth Jackson, Artist and Teacher.

Produced by: Duane Ferguson
Camera and Editor: Milan Maric
Music: Audiobinger 'Shell Shock'

Guest List
Related Websites
Web Extras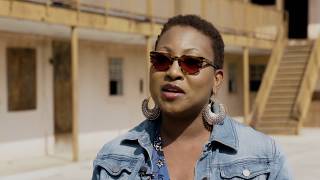 Black America Power/Strength
A Season 2 recap of the answer to what lies in the power and strength of Black America.
Sunday, May 26 - 11:30pm
Tuesday, May 28 - 11:30pm
Wednesday, May 29 - 7:30am, 1:30pm
Friday, May 31 - 9:00pm
Saturday, June 1 - 1:00pm
Sunday, June 2 - 11:35pm
Tuesday, June 4 - 11:30pm
Wednesday, June 5 - 7:30am, 1:30pm
Stacey Ciceron: Celebrity Hairstylist & Brand Consultant; Yancey Edwards: Celebrity Hairstylist & CEO, Shear Insanity
Friday, June 7 - 9:00pm
Saturday, June 8 - 1:00pm
Sunday, June 9 - 11:30pm
Tuesday, June 11 - 11:30pm
Wednesday, June 12 - 7:30am, 1:30pm
Saturday, June 15 - 1:00pm
Sunday, June 16 - 11:30pm
Tuesday, June 18 - 11:30pm
Wednesday, June 19 - 7:30am, 1:30pm
Friday, June 21 - 9:00pm
Saturday, June 22 - 1:00pm
Sunday, June 23 - 11:30pm
Friday, May 17 - 9:00pm
Saturday, May 18 - 1:00pm
Sunday, May 19 - 11:40pm
Tuesday, May 21 - 11:30pm
Wednesday, May 22 - 7:30am, 1:30pm
Saturday, May 25 - 1:00pm
Friday, May 3 - 9:00pm
Saturday, May 4 - 1:00pm
Sunday, May 5 - 11:30pm
Tuesday, May 7 - 11:30pm
Wednesday, May 8 - 7:30am, 1:30pm
Saturday, May 11 - 1:00pm
Sunday, May 12 - 11:45pm
Tuesday, May 14 - 11:30pm
Wednesday, May 15 - 7:30am, 1:30pm
Saturday, April 27 - 1:00pm
Sunday, April 28 - 11:30pm
Tuesday, April 30 - 11:30pm
Wednesday, May 1 - 7:30am, 1:30pm