This edition: blk/Am: Messiah Ramkissoon
Tweet
Episode Details
Original tape date: January 29, 2019.
First aired: January 29, 2019.
In this minisode, we meet poet, hip hop artist, activist and mentor Messiah Ramkissoon. For more information on his art and activism, follow Messiah on IG and Twitter @AllMessiah

Producer : Duane Ferguson
Camera : Kalin Ivanov and Duane Ferguson
Editor : Duane Ferguson and Sam Daniel
Lighting Design :
Jonathan Belcher and Chauncey Joiner
Production Assistants : Erika Gregorio and Jhaelyn Arteaga

Guest List
Web Extras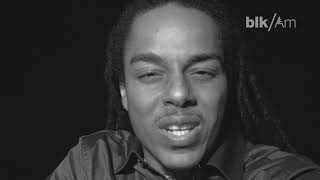 blk/Am : Messiah Ramkissoon 'Order of Removal'
Performance of 'Order of Removal' written and performed by poet Messiah Ramkissoon.
Saturday, May 25 - 1:00pm
Sunday, May 26 - 11:30pm
Tuesday, May 28 - 11:30pm
Wednesday, May 29 - 7:30am, 1:30pm
Friday, May 31 - 9:00pm
Saturday, June 1 - 1:00pm
Sunday, June 2 - 11:35pm
Tuesday, June 4 - 11:30pm
Wednesday, June 5 - 7:30am, 1:30pm
Stacey Ciceron: Celebrity Hairstylist & Brand Consultant; Yancey Edwards: Celebrity Hairstylist & CEO, Shear Insanity
Friday, June 7 - 9:00pm
Saturday, June 8 - 1:00pm
Sunday, June 9 - 11:30pm
Tuesday, June 11 - 11:30pm
Wednesday, June 12 - 7:30am, 1:30pm
Saturday, June 15 - 1:00pm
Sunday, June 16 - 11:30pm
Tuesday, June 18 - 11:30pm
Wednesday, June 19 - 7:30am, 1:30pm
Friday, May 17 - 9:00pm
Saturday, May 18 - 1:00pm
Sunday, May 19 - 11:40pm
Tuesday, May 21 - 11:30pm
Wednesday, May 22 - 7:30am, 1:30pm
Friday, May 3 - 9:00pm
Saturday, May 4 - 1:00pm
Sunday, May 5 - 11:30pm
Tuesday, May 7 - 11:30pm
Wednesday, May 8 - 7:30am, 1:30pm
Saturday, May 11 - 1:00pm
Sunday, May 12 - 11:45pm
Tuesday, May 14 - 11:30pm
Wednesday, May 15 - 7:30am, 1:30pm
Tuesday, April 23 - 11:30pm
Wednesday, April 24 - 7:30am, 1:30pm
Saturday, April 27 - 1:00pm
Sunday, April 28 - 11:30pm
Tuesday, April 30 - 11:30pm
Wednesday, May 1 - 7:30am, 1:30pm