This edition: Remembering Ed Koch
Tweet
Episode Details
Original tape date: February 22, 2013.
First aired: June 11, 2013.
A New York icon, The Honorable Edward I. Koch died February 1, 2013 at age 88. A two term
U.S. Congressman and mayor of New York from 1978 - 1989, Mr. Koch stayed relevant in the world of politics until the day he died.

In this CUNY TV Special, "Remembering Ed Koch," we gather together several members of Mr. Koch's weekly "lunch club" to reminisce about the charismatic figure's accomplishments and setbacks over his storied career. Joining moderator Sam Roberts of "The New York Times" for a lively conversation over one of their favorite meals are guests George Arzt, Peter Aschkenasy, John LoCicero and Peter Piscitelli.

Guest List
John LoCicero Former Campaign Manager to Ed Koch
Sam Roberts Editor, New York Times Week in Review and co-host, New York Closeup, NY1, The New York Times
Web Extras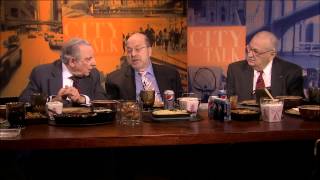 Ed Koch Luncheon Club
Members of the Ed Koch Luncheon Club talk about the late mayor's thoughts of suicide.
Monday, May 27 - 6:00am, 12:00pm
Wednesday, May 29 - 3:00pm
Thursday, May 30 - 9:00pm
Friday, May 31 - 10:00am
Saturday, June 1 - 11:00am
Sunday, June 2 - 5:00pm
Tuesday, June 4 - 7:30am, 12:00pm
Friday, June 7 - 4:30am, 9:00am, 2:00pm
Saturday, June 8 - 4:00pm
Monday, June 10 - 7:00am, 1:00pm
Wednesday, June 12 - 1:00am
Friday, June 14 - 6:00am, 4:00pm
Thursday, June 20 - 9:30pm
Friday, June 21 - 9:30am, 2:30pm
Monday, May 20 - 10:00pm
Tuesday, May 21 - 2:00pm
Friday, May 24 - 6:00am, 4:00pm
Saturday, May 25 - 2:10am, 11:00pm
Thursday, May 16 - 9:30pm
Friday, May 17 - 9:30am, 2:30pm