This edition: Food Revolution
Tweet
Episode Details
Original tape date: January 7, 2014.
First aired: January 17, 2014.
FOOD REVOLUTION, a half-hour special, examines the current trend in growing, buying, and consuming locally produced food. The special focuses on "farm-to-table" restaurants and markets; what organic and local food terms actually mean; the economics of community supported agriculture and how customers utilize new purchasing venues; scientific ideas for growing new crops in vertical farms; and teaching the values of local fresh food to children. Host: Carol Anne Riddell.

Guest List
Kevin Adey Executive Chef, Northeast Kingdom
Elaine Baynes Shareholder, Crown Heights CSA
Daniliz Capellan High School Junior
Maggie Cheney Director of Farms & Education, Bushwick Campus Farm
Suzanne Cohen Parent, PS 11
Dennis Derryck Founder & President, Corbin Hill Food Project
Dickson Despommier, PhD Professor, Columbia University
Chelsey Duckworth Customer, Northeast Kingdom
Javier Genao Shareholder, Sunset Park CSA
Bill Halsey Owner, Halsey's Green Thumb Organic Farm
Wahida Kharmally, PhD Nutritionist, Columbia University
Ken Kleinpeter Vice President of Operations, Glynwood
Paula Lukats CSA Program Manager, Just Food
Lee Mandell Owner, Boswyck Farms
Fran Miller Coordinator, Crown Heights CSA
Debbie Osborn PS 11 Farm Market
Martin Rodriguez Owner, Mimomex Farms
Earl Skinner Shareholder, Corbin Hill Food Project
Simone Springer High School Sophomore
Tupacamaru Tiwoni Market Manager, 125th Street Farmers' Market
Jennifer Wittlin Core Group Member, Sunset Park CSA
Margaret Wright Customer
Web Extras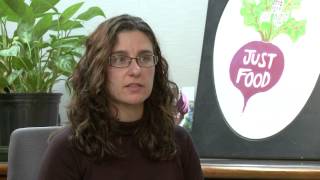 CSA, Farmers Market of Co-op
Paula Lukats of Just Food explains the differences between CSA, Farmers Markets and Co-ops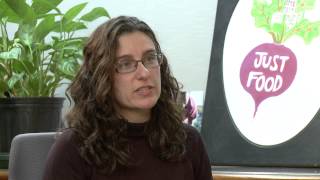 CSA: Seasonality
Paula Lukats of Just Food talks about learning to eat food that is in season.
Monday, May 27 - 6:00am, 12:00pm
Wednesday, May 29 - 3:00pm
Thursday, May 30 - 9:00pm
Friday, May 31 - 10:00am
Saturday, June 1 - 11:00am
Sunday, June 2 - 5:00pm
Tuesday, June 4 - 7:30am, 12:00pm
Friday, June 7 - 4:30am, 9:00am, 2:00pm
Saturday, June 8 - 4:00pm
Monday, June 10 - 7:00am, 1:00pm
Wednesday, June 12 - 1:00am
Friday, June 14 - 6:00am, 4:00pm
Thursday, June 20 - 9:30pm
Friday, June 21 - 9:30am, 2:30pm
Monday, May 20 - 10:00pm
Tuesday, May 21 - 2:00pm
Friday, May 24 - 6:00am, 4:00pm
Saturday, May 25 - 2:10am, 11:00pm
Thursday, May 16 - 9:30pm
Friday, May 17 - 9:30am, 2:30pm