This edition: Immigration Today: New York City Stories
Tweet
Episode Details
Original tape date: June 30, 2017.
First aired: September 4, 2017.
Over 3 million New York residents were born in another country. New York's historical status as a hub of immigration is as true today as it ever was. And as immigration policies are increasingly in the news cycle, the CUNY Graduate School of Journalism took a look at the real lives of contemporary New York City immigrants: the stories behind the statistics.

Guest List
Benjamin Undocumented Immigrant
Dermot Undocumented Immigrant
Myrna Undocumented Immigrant
Naim Akonjee Victim's Son
Shahrin Azim Muslim Activist, Women's Initiative for Self-Empowerment (WISE)
Rosa Chilquirro Director, Pathways to Work
Kobir Chowdhury President, Community Leader, Masjid Al-Aman
Bara Diokhane Retired Senegalese Lawyer & Civil Rights Activist
Isseu Diouf Campbell Communications Director, Senegalese Association of America
Jessica Greenberg Immigration Lawyer, African Services Committee
Julie Ae Kim Representative, Mayor's Office of Immigrant Affairs
Bitta Mostofi Assistant Commissioner, Mayor's Office of Immigrant Affairs
Alizabeth Newman Director of Immigrant Initiatives, CUNY School of Law
Ronald Ritzie Sculptor
Anna Shtorm Russian Immigrant Artist
Geoff Trenchard Attorney, New Sanctuary Coalition
Sergey Yermolaev Art Student
Web Extras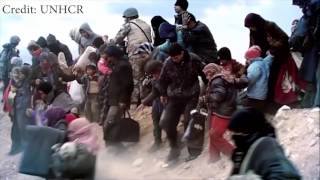 Immigration Misconceptions
A primer on immigrants and refugees - and why knowing the difference matters.
Friday, May 24 - 6:00am, 4:00pm
Saturday, May 25 - 2:10am, 11:00pm
Monday, May 27 - 6:00am, 12:00pm
Wednesday, May 29 - 3:00pm
Thursday, May 30 - 9:00pm
Friday, May 31 - 10:00am
Saturday, June 1 - 11:00am
Sunday, June 2 - 5:00pm
Tuesday, June 4 - 7:30am, 12:00pm
Friday, June 7 - 4:30am, 9:00am, 2:00pm
Saturday, June 8 - 4:00pm
Monday, June 10 - 7:00am, 1:00pm
Wednesday, June 12 - 1:00am
Friday, June 14 - 6:00am, 4:00pm
Monday, May 20 - 10:00pm
Tuesday, May 21 - 2:00pm
Thursday, May 16 - 9:30pm
Friday, May 17 - 9:30am, 2:30pm