This edition: Episode #112: "Ballers" & "Everest"
Tweet
Episode Details
Original tape date: October 30, 2015.
First aired: January 15, 2016.
In episode #112 of Science Goes to the Movies, Dr. Heather Berlin and Faith Salie are joined by Carl Banks, former New York Giants linebacker, radio color commentator, and G-III Sports Apparel President, to discuss the neuroscience of teamwork and loyalty as portrayed in the HBO series Ballers as well as the film Everest.

Ballers provides the basis for a conversation about the ways an individual can disrupt the chemistry of a team, including selfish play, drug abuse, and a disregard for the team concept. Banks breaks down the mental preparation before competition and what actually goes through an athlete's head during a game. Also assessed is how fear, respect, and anger affect playing, and how the psychology of sports and competition is reflected in what football players say to one another on the field. How pain can be suppressed, by excitement and adrenaline, is explained by Dr. Berlin, and Banks reveals his own methods of handling pain. The experience of Charles Greane, one of Ballers' central characters, sparks a conversation about how players attempt to find their way in the world after professional sports. A lack of challenges and gratification are explained as part of post-sports identity crises, as well as the loss of camaraderie and fellowship. What such an identity crisis looks like in neuroscience is detailed by Dr. Berlin – specifically, an absence of bonding and excitatory chemicals, and how different brains react to trauma. The increasing fear of brain damage among players is discussed, including Banks' personal history of taking violent hits without any serious repercussions. In looking at symptoms experienced by former players, Banks and Dr. Berlin explore the difficulty of separating emotional reactions from what could be indications of a brain's physical damage.

Everest offers another angle on the subject of putting team before self. Dr. Berlin explains how certain types of experiences can lessen the salience of the brain's network that provides the sense of selfhood – leading instead to a sense of oneness. Transcranial magnetic stimulation is detailed as a procedure that can cause a person to have an out-of-body experience, or to feel separate from oneself. Banks weighs in on how team sports facilitate a collective experience.

Written and Produced by Lisa Beth Kovetz.

Science Goes to the Movies is made possible by generous support from the Alfred P. Sloan Foundation.

Guest List
Carl Banks Giants Linebacker (retired); President, G-III Sports Apparel
Web Extras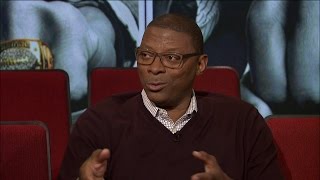 Full Interview with Carl Banks
The full, uncut interview with former Giants linebacker and Super Bowl Champion Carl Banks.
Thursday, May 30 - 8:00pm
Saturday, June 1 - 5:30pm
Tuesday, June 4 - 7:00am, 1:00pm
Thursday, June 6 - 8:00pm
Saturday, June 8 - 5:30pm
Sunday, June 9 - 7:30am
Tuesday, June 11 - 7:00am, 1:00pm
Thursday, June 13 - 8:00pm
Saturday, June 15 - 5:30pm
Sunday, June 16 - 7:30am
Tuesday, June 18 - 7:00am, 1:00pm
Thursday, June 20 - 8:00pm
Thursday, May 16 - 8:00pm
Saturday, May 18 - 5:30pm
Sunday, May 19 - 7:30am
Tuesday, May 21 - 7:00am, 1:00pm
Thursday, May 2 - 8:00pm
Saturday, May 4 - 5:30pm
Sunday, May 5 - 7:30am
Tuesday, May 7 - 7:00am, 1:00pm
Tuesday, April 23 - 7:00am, 1:00pm