This edition: The Future
Tweet
Episode Details
Original tape date: October 26, 2014.
First aired: October 26, 2014.
On the second episode of the new season of Study With the Best, we'll move forward into the future, sometimes, by going back. The City Tech Mechatronics lab has created TOBIAS, a mechanical-powered robot with far-reaching implications for the future. Scholar Ximena Gallardo of LaGuardia Community College will talk about the representation of women in science fiction films. Barry Mitchell takes us back in time to the 1964 New York World's Fair where we revisit some wild predictions of the future. Then, Carrie Hintz, a Queens College associate professor, talks about utopian and dystopian fictions. And finally, we'll see how a fellow from the Tow-Knight Center for Entrepreneurial Journalism is taking people's online lives offline, with the creation of her fictional – and non-fictional – walking tours of NYC.

Guest List
Eugene Babkin City Tech
Jeremy Ellison-Gladstone Storyteller, StoryTour
Dr. Ximena Gallardo Film Scholar, LaGuardia Community College
Samantha Gross Founder, StoryTour; Two-Knight Center for Entrepreunerial Journalism
Carrie Hintz Associate Professor, Queens College
Angjelo Kuka City Tech
Dorothy Lewandowski Queens Parks Commissioner, Queens Parks/Baruch College
Amy Thacker Stella and Charles Guttman Community College
Joseph Tirella Interim Director, Office of Communications, Lehman College
Andy Zhang, PhD Director, City Tech Mechatronics Department, City Tech
Web Extras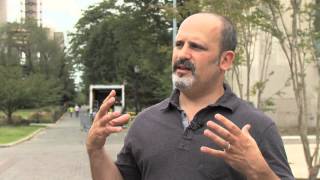 Civil Rights 1964 World's Fair
Joseph Tirella Explains how civil rights affected the 1964 World's Fair in New York.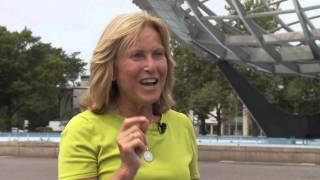 Renovating The New York State Pavilion
Dorothy Lewandowski tells us how the New York State Pavilion will be updated.